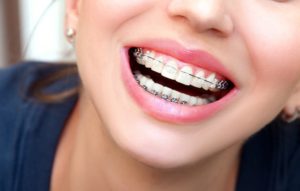 If you've recently been informed by your orthodontist that you're going to need braces, you might be wondering what the journey before you will look like. Luckily, some of our favorite movie and television characters throughout the years have brightened up our lives with their grins and given us an idea of what it's like to confidently smile with braces. Keep reading to learn a little more about some of the most beloved movie and television characters with braces.
Murray from Clueless
You might be familiar with Donald Faison from the TV show Scrubs (he played Turk), but before that role, he played Murray from Clueless. Murray was one of the coolest characters in the entire movie—and he didn't let his braces keep him from acting stylishly and rocking his iconic 90s look.
Mike Wazowski from Monsters University
One of the main characters and protagonists of the film, Mike Wazowski is the one-eyed green cartoonish monster that goes off to college in the film to learn how to be a professional monster. Mike has completed his orthodontic treatment in the film, and proudly wears his retainer throughout his college escapades in order to ensure that he doesn't suffer from orthodontic relapse.
Betty Suarez from Ugly Betty
Played by America Ferrera, Betty Suarez is the star of the television series Ugly Betty, which follows a 22-year-old girl from Queens who's smart and hardworking, but also possesses an eclectic sense of style. Needless to say, she finds herself climbing the ranks of the fashion industry, braces and all.
Chuckie Finster from Rugrats
Chuckie Finster is the red-headed baby and sidekick to Tommy Pickles in the classic cartoon Rugrats, and he's most memorable for his unkept hair, rectangular glasses, and shiny braces! Even in the sequel show All Grown Up, he still has braces as a pre-teen—meaning he either didn't wear his retainer, or he has some seriously stubborn teeth!
Darla Sherman from Finding Nemo
If you're familiar with the Pixar film Finding Nemo, you might remember the part where Nemo finds himself trapped in the orthodontist office's fish tank, awaiting his fate as a birthday present for Darla—the niece of the dentist who's a notoriously awful pet owner. Not only does Darla wear braces, but she also sports some serious headgear.
It's always cool to see braces represented all across television and cinema; for such a common treatment option, they deserve the spotlight now and again, especially considering how effective they can be at straightening smiles and changing lives!
About the Practice
Our team here at Ludlow Orthodontics is honored to serve the needs of patients and families in the Ludlow, MA community under the leadership of Dr. Sam Alkhoury. We offer a wide range of comprehensive orthodontic services that are certain to get your smile into the best shape imaginable! If you have any questions about the article or would like to arrange a visit, you can contact us online or over the phone for further assistance: (413) 613-4663.