Invisalign Clear Aligners – Ludlow, MA
The Clear Alternative to Metal Braces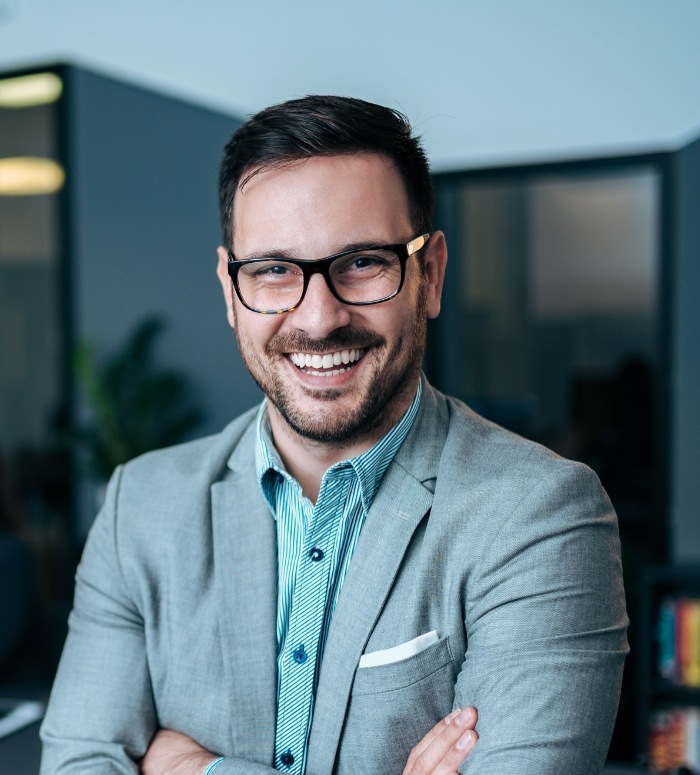 The metal brackets and wires of traditional braces can be inconvenient, to say the least. Brushing and flossing around them often proves difficult, you have to cut several foods out of your diet, and of course, they're not exactly cosmetically pleasing. However, if your teeth are only slightly misaligned, you may be able to enjoy more freedom and a seamless appearance during your treatment with Invisalign clear aligners. Get in touch with our Ludlow Orthodontics team today to schedule a consultation with Dr. Sam Alkhoury to discuss smile alignment with Invisalign clear aligners in Ludlow, MA!
Why Choose Ludlow Orthodontics for Invisalign Clear Aligners?
100% Digital Dental Impressions
Treating Ludlow Smiles for Decades
Experienced, Gentle Orthodontist
How Invisalign Works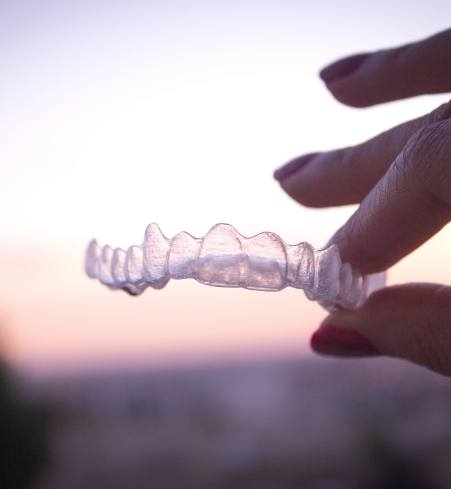 Treatment with Invisalign involves a series of transparent plastic trays called aligners, which are worn for at least 22 hours a day. Each set of aligners shifts a small section of your smile at a time until all of your teeth are perfectly positioned, and you'll wear a set for a few weeks before switching to the next pair in the series. After your treatment is complete, you'll have to wear a retainer to keep your teeth from reverting to their old positions and undoing the work of the aligners.
Indications for Invisalign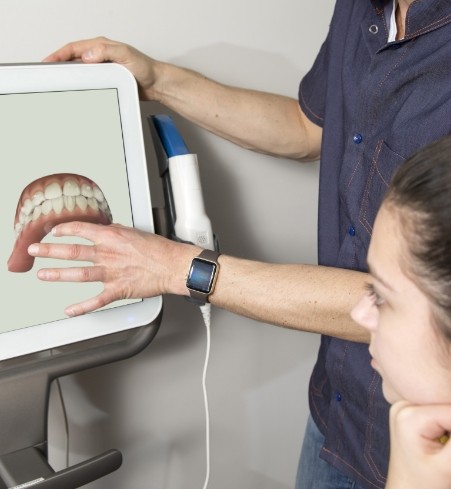 While severe cases of malocclusion may necessitate traditional braces, Invisalign is capable of addressing a wide range of orthodontic issues, including:
Crowded Teeth
Overcrowding is a common concern that can negatively impact the look and function of your smile. Luckily, the clear aligners can gently guide your teeth into their properly aligned positions in an average of just 12 to 18 months!
Gaps Between Teeth
With Invisalign, you can gradually close the gaps between your teeth, benefiting your oral health, bite, and confidence in the process!
Bite Alignment
Overbites, underbites, and crossbites are common, and if they aren't addressed, they can result in premature wear, chronic teeth grinding, and other complications. Fortunately, Invisalign can correct bite problems too!
The Benefits of Invisalign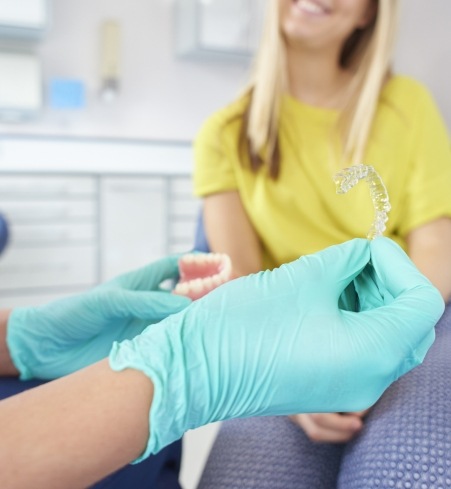 Over the last 20+ years, Invisalign has helped more than 12 million patients achieve their smile goals. It continues to be a sought-after teeth-straightening solution for a few important reasons, including:
Shorter average timelines
Discreet appearance
Hassle-free oral hygiene
No dietary restrictions
Fewer check-in appointments
Understanding the Cost of Invisalign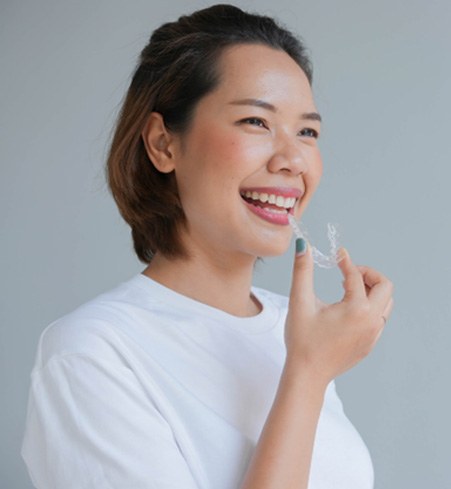 Since Invisalign isn't a one-size-fits-all treatment, there isn't a one-size-fits-all price. Don't worry – that doesn't mean that understanding the price is difficult. At your consultation, our Ludlow orthodontist will review your dental history, examine your teeth, gums, and jaw, and learn about your smile goals. From there, we can create a custom treatment plan, provide you with a cost estimate, and review your financial solutions. Want to learn more about the cost of Invisalign before your appointment? Then simply read on!
Factors That Affect the Cost of Invisalign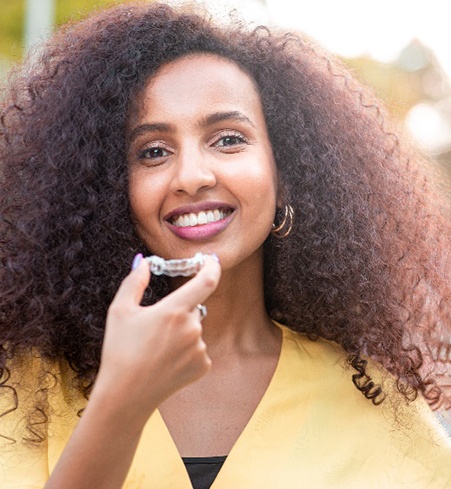 Each Invisalign treatment is tailored specifically to the patient's dental needs and smile goals. Therefore, we need to take a few X-rays and conduct an oral exam to determine:
How severe your misalignment is
If you need to straighten one or both arches of your teeth
How many trays are needed to straighten your teeth
If rubber bands and other orthodontic accessories are needed
These are just a few of the factors that will play a role in the initial cost. Once you begin your treatment, then something else needs to be considered: your compliance with the treatment guidelines. Bad habits like not wearing your aligners for 20-22 hours a day can result in you falling off-track with your treatment plan, which may require an additional investment. Fortunately, following all of our recommendations can help prevent that from happening to you!
Invisalign vs. Smile Direct Club™: Which Costs More?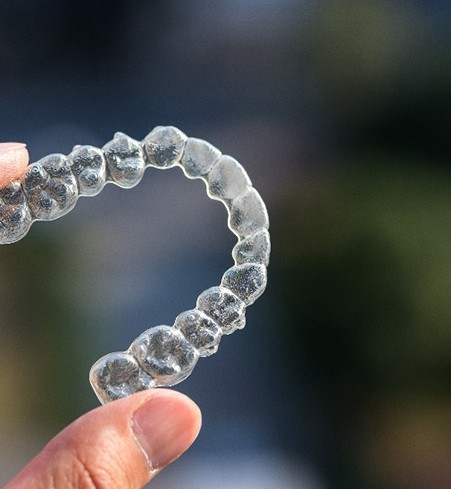 You've likely heard the saying that "cheaper isn't always better," and that's certainly the case when it comes to mail-order clear aligners. These Invisalign alternatives boast about a lower upfront cost without mentioning that they skip crucial steps of the treatment process and require you to do DIY impressions. Furthermore, there is no mention of the outstanding lawsuits from previous patients who experienced worsened misalignment or the fact that professional organizations, like the American Dental Association, have voiced their distaste. Simply put, even with a cheaper price, mail-order clear aligners aren't worth your money!
Does Dental Insurance Cover Invisalign?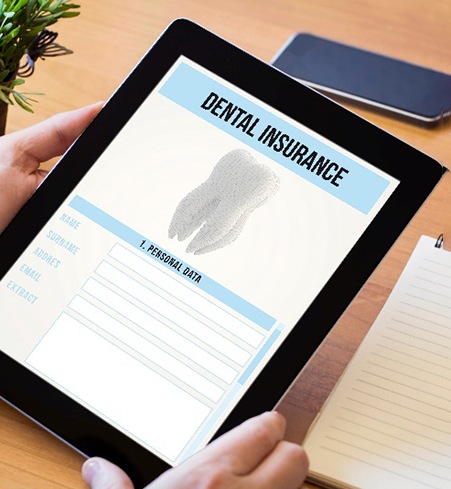 There are some cases where the answer is "yes." So, don't automatically assume the answer is no – check the fine print on your dental plan or reach out to your provider directly! Of course, you can also talk to our team. We're in-network with many leading PPO dental plans, and we have years of experience maximizing our patients' benefits.
Options for Making Invisalign Affordable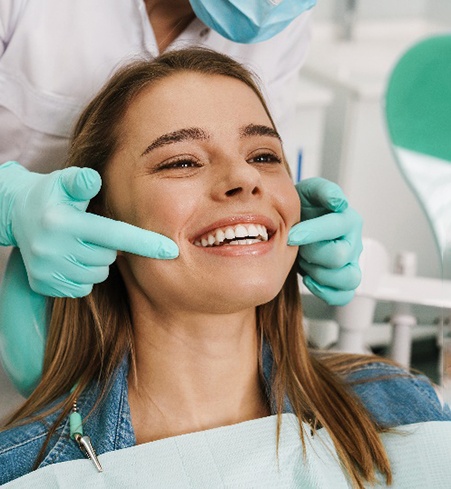 With us, "personalized, high-quality treatment" doesn't mean "expensive." In fact, we offer our patients several ways to save. In addition to welcoming dental insurance, we're proud to work with LendingPoint, which allows you to break up the cost of your care into low monthly payments. We also offer periodic specials. Although they change, they always are created with one goal in mind: to help lower your out-of-pocket expenses.