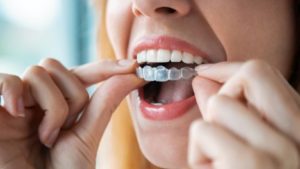 Invisalign is one of the hottest orthodontic treatments around—millions of patients these days turn toward the clear aligners to achieve healthier and straighter smiles in a discreet manner. However, as important as it is to wear the aligners frequently, there will inevitably be times when they'll need to come out, such as when you're eating. But how can you ensure that you aren't compromising your treatment or hurting your trays when it's time to remove them? Here are five useful tips to help you out!
Tip #1. Stay Calm
You won't immediately master the art of removing your clear aligners, and it'll take some time for you to become accustomed to it. That said, if you're having trouble at first, it's important to relax and stay calm—you won't have better luck if you're tensing up or stressed out! Not to mention, losing your cool might also increase the likelihood of you injuring yourself or damaging an aligner by accident. If you're ever starting to feel frustrated or flustered, try pausing and taking a couple of deep breaths before trying again.
Tip #2. Keep Your Mouth Warm
If your mouth is warm, you'll have an easier time removing your aligners. This will cause the plastic of the aligners to feel more flexible and easier to manipulate, making them infinitely easier to remove! You can drink some lukewarm water to warm up your mouth before popping out your aligners; also be sure that your hands and fingers are dry.
Tip #3. Start from the Back
It might seem logical to remove your aligners starting from the front, but you should actually start from your back teeth instead. This greatly minimizes the risk of injury to your mouth and also protects your aligners. Lift the aligners off of your molars on each side, gradually working your way toward the front teeth. You can also start with one side and work your way toward the other.
Tip #4. Swap to Your New Trays Before Bedtime
Clear aligners work by gradually shifting your teeth into a straighter and healthier position, often over the course of several months. Usually about once every two weeks, you'll need to advance to a new set of aligners to match your teeth's progress; when it's time to do this, you should do it before bedtime! This is beneficial for two reasons: you'll sleep through the initial stage when the new aligners are tightest and most uncomfortable, and you'll also have an easier time removing them in the morning when it's time to brush and eat!
Tip #5. Use Aligner Hooks
Several tools can assist you with the removal of your aligners. Pul Tools and OrthoKeys are two popular options that are widely available through retailers like Amazon. They work similarly to crochet hooks and can gently hook under the edge of your aligners and help you lift them from your teeth with no mess or hassle.
About the Practice
Here at Ludlow Orthodontics, we're thrilled to provide patients and families in the Ludlow community with an exceptional level of service that'll have your smile looking its best! Our practice is proud to offer a wide range of orthodontic treatments including Invisalign. If you have any questions about the article or would like to arrange a visit, you can contact the practice online or by phone for assistance: (413) 547-0300.